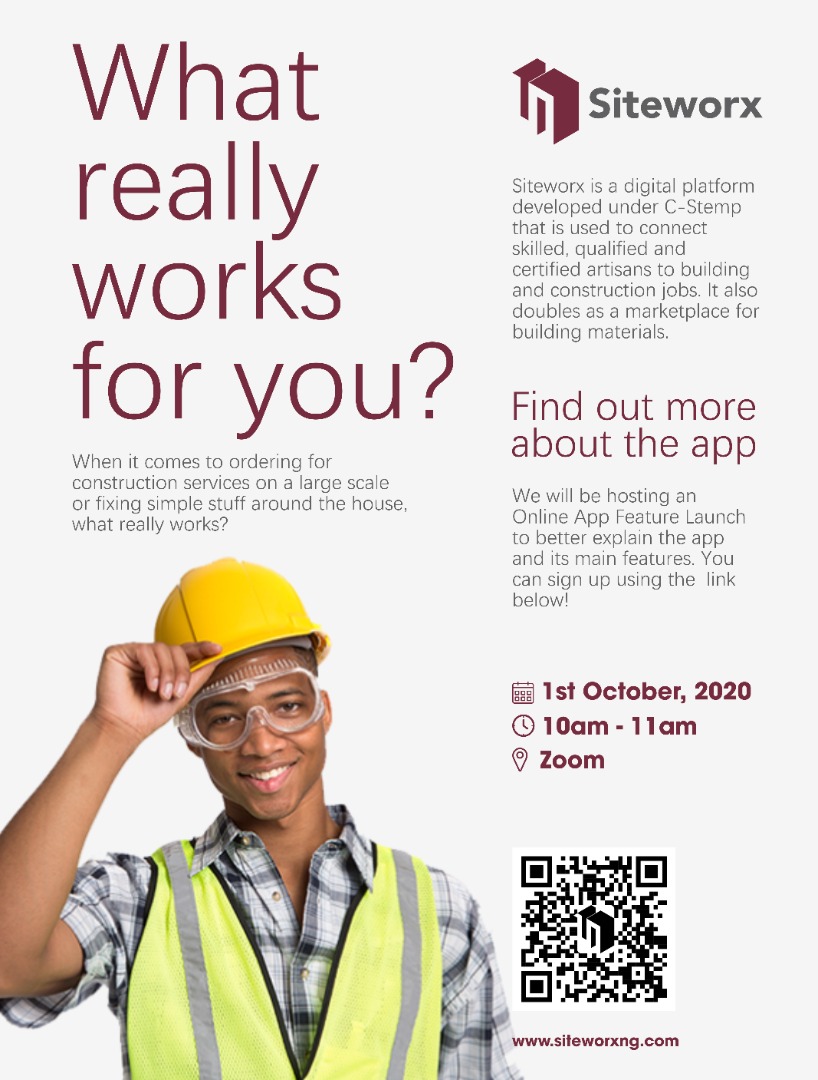 As an independence day gift to Nigerians, the Construction Skills Training and Empowerment Project Ltd (C-STEMP) has introduced a digital platform named siteworx where Nigerians can connect with skilled, qualified and certified artisans for building and construction jobs, as well as a market place for building materials.
Siteworx platform which was officially unveiled earlier today through an online meeting of building and construction stakeholders, seems to be the highest technological innovation witnessed in the Nigerian Building and Construction Industry in recent time.
In his remark, Anthony Okwa, the Managing Director/Director General of C-STEMP – the mother through which Siteworx was birthed, said that the platform is a new baby that is expected to grow into a giant in the nearest future. He thanked the stakeholders of the industry for their supports and solicited concerted efforts towards seeing the breakthrough of the platform.
The launching which was attended by the Chairman of C-STEMP, Rev. Ugochukwu Chime, the Board Chairman of sitewox, Barr. Festus Adebayo, the Director, Engr. Enouche Ugbabe and other pannelists which include, Dr. David Ikuwe – the Lead Developer of Platinum Engineering and Seth Ogungbemi, COO C-STEMP, lasted for about an hour with no fewer than 200 participants from the Nigeria construction industry. Special guests in attendece include Dr. Samson Opaluwah -VP CORBON & C-STEMP Board Memeber, Sourav from India and Kunal Trivedi.
Introducing the functionality of Siteworx, the Project Coordinator, Samuel Okwa, said the emergence of the innovation is "because of the need to connect the stakeholders in the building construction industry; especially those who provide skill services and those who provide products. He explained the processes involved in the usage of the application and the user interface features on the application.
With Siteworx, Nigerians can now order for construction services on a large scale or fixing simple stuffs around their houses from the comfort of their homes.
As the word shifts to a complete technological age, all nations and sectors are bracing up to meet up with the ever growing technological demands. For Nigeria building industry, the introduction of Siteworx has put an end to the stress involved in sourcing competent artisans and the accessibility of building and construction materials in just a log-in to www.siteworxng.com.
The software application which can be downloaded from the popular google play store, is said to be compatible with android devices, IOS, as well as Personal Computer (PC).