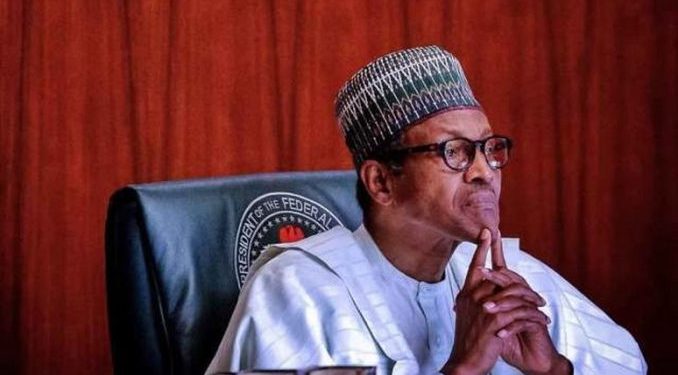 Forget the glittering multi-billion naira-worth plazas of Abuja, the shimmering skyscrapers on the streets of Lagos and the aesthetic blackness of Port-Harcourt highway asphalt, Nigerians are hungry, very hungry. If you measure their hunger by the infectious smiles that light their faces as they hop out of the ubiquitous tricycle nicknamed Marwa, the boisterous laughter erupting out of their banters on the streets of Owerri or the meandering of latest automobiles that glide past Kaduna highway like maggots wriggling out of decay, you are already misled. Hunger is wracking the belly of the land.
Indicator for measuring how hunger is king of Nigerian bellies isn't even the implosion in the number of beggars on the streets. Or the increasing presence of miserable scavengers on debris heaps. The gauge is increment in the number of countrymen who, at the drop of a hat, willingly abandon their dignity and prostrate before the god of the belly. Or neighbours who, awhile ago, barely exchanged greetings with you, but sneak into your shack in the cover of darkness to beg for a cup of rice. Or the uncontrollable number of requests for bailout that intrude into your cell phones, as messages/account numbers, from friends and foes alike. Or the growing number of fellow workers you could vouch for their fidelity a few months ago who today are caught in disgraceful petty workplace larceny.
But, the world itself is hungry! coronavirus has hit the underbelly of the globe. Economies are in fits and the world is gasping for breath. In the midst of this, governments are bailing out their hungry people and packaging relief plans for the poor, such as cash transfers or interventions for the vulnerable.
African governments and their runners are also responding to the Coronavirus epidemic in their globally-known ways: Spiking endemic corruption figures and making life more miserable for their hapless people. While South Africa is battling one of the most shameful sub-Sahara African scandals of corruption arising from allegedly mismanaged Covid-19 aids worth more than 5 billion rand ($300 million), in Botswana, Zimbabwe and Uganda, several health officials are reported to have either been dismissed or arrested for cleverly profiting from the pains of the pandemic. In Kenya, President Uhuru Kenyatta was, two weeks ago, forced to act on reported allegation that the Kenya Medical Supplies Authority procured sub-standard, as well as overpriced Covid-19 equipment.
While Kenyatta is at least bothered about this malady and ordering publication of details of the spending of aids money, in Nigeria, Muhammadu Buhari's Minister of Humanitarian Affairs, Disaster Management and Social Development, Sadiya Farouq, claimed she had spent the sum of N523.3 million on the nondescript homegrown school feeding programme at a time when school children were locked down at home. Allegations fly about that billions of naira escape through the windows into private purses of top Nigerian officials involved in the fight against the pandemic.
Rather than palliatives, wicked policies, like a carefully choreographed spate of calamities, ooze out of Nigeria's Aso Rock Villa daily. In three months, prices of petroleum, Nigerians' mainstay and their cup of existential survival, have been hiked, the latest being that of last Thursday. Electricity tariff also got the inhuman touch by increment of 50 to 100 per cent on Tuesday. Interest rate on savings received inhuman increment while multiple taxes and allied stringent economic measures were visited on the people. Thousands have lost and still losing their jobs. Prices of foodstuffs soar, in alarmingly astronomical manner, like an eagle seeking to have a handshake with the firmament while Buhari and his government are absent from the lives of the people. Victims of this skyrocketing cost of living are however indeterminable because Nigeria is not statistics-savvy. The truth is, many Nigerians must have died from this excruciating absence of government in their lives. Rather than do the needful, the social media is awash with spineless recruits of this inhuman government, justifying, rationalising and situating the Nigerian pain in scandalously senseless global comparatives.
Typical of Buhari and his characteristic medicine-after-death placebo, the President said he was baffled that food prices were hitting the sky. Blaming everybody else but himself, he put the hike at the feet of "middle men" and "globalisation."
Not minding the popular maxim which says that one man's hero is another's tyrant, on Nigerian streets today, the narrative is that Buhari and his government are very heartless and wicked. But, is Buhari ruthless? Is his government a miniature of ruthless rulers' in history? Does he possess the ruthlessness of Josef Stalin and Mao Zedong?
There is yet no consensus on who was the most policy ruthless leader in recorded history between Stalin and Zedong. Stalin, who ruled Soviet Union from the mid-1920s until his death in 1953, was also faced by an economic crisis in 1928 as Buhari is with a Covid-19 economy. This made USSR to be short of 20 million grains with which to feed the people. Responding to this, Stalin designed an agricultural policy which he called collectivisation. However, under this policy, China recorded the greatest famine in human history. Mao, on his own, though credited with modernising China, through his agrarian policy of Great Leap Forward Plan, which spanned 1958 to 1962, attempted to bring industry to the countryside. In this regime of forced labour, farmers starved to death, with 18 to 45 million deaths recorded in this decidedly economic disaster policy. Like Buhari did last week, Chairman Mao also blamed bad weather for the decline in food output.
The perception of Buhari as wicked, which juts out of policies attributed to him, fills the lips of so many Nigerians. However, rather than perceive the president as wicked, I am more at home with submitting that he deserves our pity. Buhari is not here, even though we see him periodically, decked in his traditional white babanriga, waving his hands sometimes and beaming in infectious smiles. The eccentric Donald Trump, upon sighting him at the White House in April, 2018, shortly before Trump's second meeting with another African Head of State, Kenyatta, warned the world of what he saw.
Highly rated Financial Times, in its August 27 edition of that year, had reported that, after meeting Buhari, the American president confessed that he never wanted to meet someone that lifeless again. Financial Times was to garner further tissues of corroborative evidence when Buhari appeared on a Kadaria Ahmed-moderated town hall event, The Candidates, broadcast on the NTA, prior to the 2019 election, sounding acutely incoherent. Similar outings, like Buhari's jumbled response at the United Nations Climate Action Summit on September 23, 2019 and his merry-go-round whenever he speaks extempore, confirm his state of mind.
READ ALSO: No Govt Has Raped Nigeria Like Buhari's — Labour leaders
Rather than a wicked Buhari in the mould of Zedong and Mao, he appears to me a prisoner, locked up in the gulag of those whose interest it is to keep him in office till 2023 to achieve their power and economic motives. Though we may have concluded on his ruthless disposition judging by his draconian antecedents in office in 1984 – the maniacal Decree 4 which jailed Nduka Irabor and Tunde Thompson and the extrajudicial execution of Lawal Ojuolape, Bernard Ogedegbe and Bartholomew Owoh – you will be unfair to attribute all the recent wicked policies to our amiable president. What I see is a Nigeria on auto pilot with multiple wicked men at the cockpit. The only blame you could apportion to Buhari is his inability to rise above the walls of his imprisonment.
As Bisola Elemide, popularly known as Asa, sang in the album she entitled Jailer, both Buhari and the rest of us are prisoners. Our jailers are those unseen but powerful architects of our miseries who criminally churn out those wicked policies in the midst of Nigerians' lamentable travails. Buhari is not aware of us. He is not aware of our pains. He is not aware of Nigeria. The good man is not here at all.
Credit: www.tribuneonlineng.com